Lets face it – even the best photographers need a way to showcase their work and get known. You might already have a Behance portfolio or a Flickr account, but don't think your self promotion should end with a generic photo sharing site. Essential to every photographer is your own personal website, customised to your own style, that showcases your photography portfolio in all its glory. Enter WordPress…
Best WordPress Themes For Photographers
First of all, a 1 minute rundown on WordPress. What is WordPress? If you haven't used it before, you should. It makes creating your own website incredibly easy and powerful. WordPress is TOTALLY FREE and is being improved and expanded all the time. The absolute beauty of it though is that you can change the entire look of your website by simply changing the theme that you choose to run. All your content is still there, it just looks new and exciting! Oh and Google loves it for SEO purposes. Our recommended hosting provider, Bluehost, provides WordPress installs from the control panel, meaning you don't ever have to touch code to get it up and running. Just click away and it's done. They also offer unlimited storage at excellent prices, which as a photographer with heaps of images is a must for a large online portfolio.
So back to the point – there are some incredible themes out there for displaying your photography portfolio online (and maybe even scoring a few jobs from doing so). These themes go over the top of WordPress and make it gorgeous. Believe me, it's worth spending $60 to make your website look a million bucks. But there are literally millions of themes to choose from. So where do you start? Well, after using WordPress themes for my work for the past few years, here is my selection of the 3 best WordPress themes for photographers. They are all available from ThemeForest, the leading supplier of high quality WordPress themes.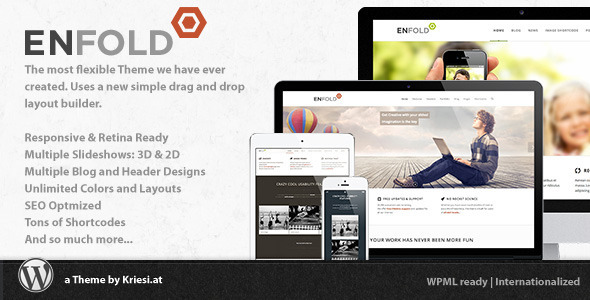 Enfold WordPress theme by Kreisi has got to be my number 1 choice as the best WordPress theme for photographers, or for that matter anyone, wanting a very slick looking site that is easy to customise. Here are some key features:
Responsive design, optimised for mobile devices – iPhones, iPad's etc
Masonry layout for your portfolio – its the cool thing these days!
Built in visual composer – basically, drag and drop to create your webpages in minutes
Translation ready, Retina ready
SEO friendly practises – helps give your website the boost it needs in Google
Excellent free support – the best support I have had from a theme provider, hands down
I personally use this theme on one of my websites, and have provided it for some clients as well. This is my theme of choice for almost any project at the moment, as it is so flexible and is constantly being updated with new features. Ready to check it out for yourself? Just follow the link below and then click the "Live Preview" to see it in action.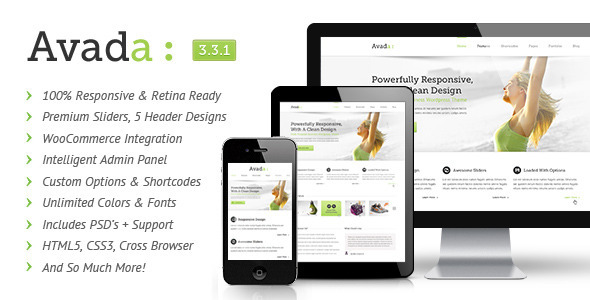 Avada WordPress theme by ThemeFusion is a standout theme. There is a good reason this theme is the highest selling WordPress theme on ThemeForest – and that is a HUGE achievement! If you want a theme for your photography site that you know will always stay up to date, then this is the theme to choose, as it is always being updated to the latest standards. Key features include:
100% responsive and Retina ready
WooCommerce compatible – so you can sell your images online
Custom backgrounds for each page
Upgrades just keep coming – seriously, this is the most constantly up-to-date theme out there
Built in visual composer – basically, drag and drop to create your webpages in minutes
If you are looking for a theme that you will not have to change for years to come, and yet will always remain current and modern, then this is THE choice. These guys just keep making this theme better all the time. Just follow the link below and then click the "Live Preview" to see it in action.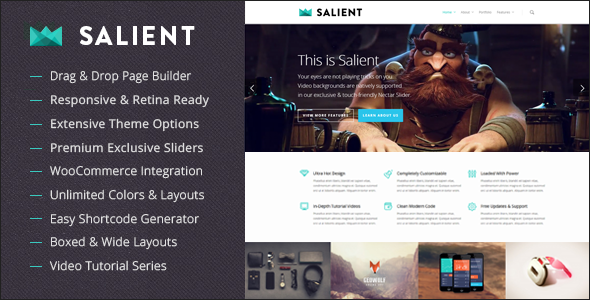 Salient WordPress theme by ThemeNectar is another beautiful theme getting rave reviews all over the place. Highly customisable, this is another great alternative for showcasing your photography portfolio. Some of the theme's key features are:
Drag and drop page builder – much easier than code or shortcodes
Exclusive image slider built in
100% responsive and Retina ready
Great support and upgrades for free
Brilliant modern look and feel
This WordPress theme really is another great example of a theme that can have endless looks and styles, all from the one place. Check it out for yourself using the link below and then clicking the "Live Preview" button.